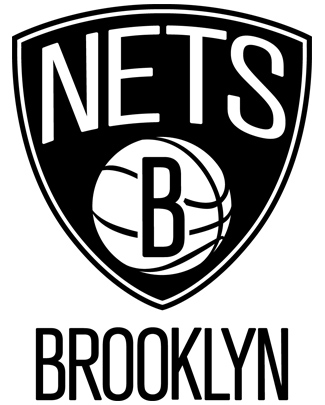 Does it come in Red White and Blue? No
(hoops) Brooklyn Nets Release Logo, Color Scheme: The Brooklyn Nets today introduced their black and white color scheme and logos as the team prepares for its move to the Barclays Center next season.
Created by Jay-Z, the Brooklyn Nets' brand identity incorporates a timeless black and white color palette of the old New York subway signage system, including its clean "Roll Sign" typeface. The treatment celebrates the history and heritage of the city by drawing upon the familiar signage from when Brooklyn last had its own major professional team in 1957.
The Nets have two primary logos. One features a shield to symbolically identify the team with the strength and character of Brooklyn, and serves as a salute to the shield in the Nets' past logo. The circular portion of the logo incorporates a prominent 'B' inside a basketball to proudly express the team's new home borough, and includes the word Brooklyn below the shield. The other logo features a basketball with an iconic 'B' inside, along with a 'Brooklyn New York' mark surrounding a basketball.
"The Brooklyn Nets logos are another step we've made to usher the organization into a new era," Jay-Z said. "The boldness of the designs demonstrates the confidence we have in our new direction. Along with our move to Brooklyn and a state-of-the-art arena, the new colors and logos are examples of our commitment to update and refine all aspects of the team."
"Our black and white colors speak to Brooklyn's strong traditions and grittiness and convey an uncompromising confidence," Nets CEO Brett Yormark said. "With its daring color display, the Brooklyn Nets logos are the new badges for Brooklyn and who better to design them than one of the world's top tastemakers and Brooklyn's own JAY Z. We are thrilled to launch our brand and to introduce the Brooklyn community to its new team. It's an honor to bring major professional sports back to Brooklyn and to become part of the fabric of this great borough."
With Arena, Rapper Rewrites Celebrity Investors' Playbook

The New York Times
by David M. Halbfinger
It's a broadsheet war! Not to be outdone by today's puffball Wall Street Journal interview with Bruce Ratner, The Times counters by tickling Jay-Z with feathers.


Mr. Ratner may have thought he was getting little more than a limited partner with a boldface name and a youthful following that could prove useful someday. But Jay-Z's contributions have dwarfed the $1 million he invested nine years ago. His influence on the project has been wildly disproportionate to his ownership stake — a scant one-fifteenth of one percent of the team. And so is the money he stands to make from it.
Now, with the long-delayed Barclays Center arena nearing opening night in September and the relocated Nets bidding in earnest for Brooklyn's loyalties, Jay-Z will perform eight sold-out shows to kick things off. But away from center stage he has put his mark on almost every facet of the enterprise, his partners say.
He helped design the team logos and choose the team's stark black-and-white color scheme, and personally appealed to National Basketball Association officials to drop their objections to it (The N.B.A., insiders said, thought that African-American athletes did not look good on TV in black, an assertion that a league spokesman adamantly denied). He counseled arena executives on what kind of music to play during games. ("Less Jersey," he urged, pushing niche artists like Santigold over old favorites like Bon Jovi.)
He even coached them on how to screen patrons for weapons without appearing too heavy-handed. ("Be mindful," he advised oracularly, "and be sensitive.")

article
NoLandGrab: Silly us! Here we were concerned about the arena's security plan, when Hova had it under control all along.
Related coverage...
Atlantic Yards Report, NYT: Jay-Z & Nets have "written a new playbook for... strategic celebrity investor" (and generating unskeptical publicity)


"Jay-Z's contributions have dwarfed the $1 million he invested nine years ago," the New York Times observes in a none-too-tough profile just posted, adding that "he and the Nets have effectively written a new playbook for how to deploy a strategic celebrity investor."
...
The Times reports:


Mr. Carter's involvement frustrated opponents of Mr. Ratner's development plans in Brooklyn who saw the arena and proposed residential and office towers as a subsidized land grab that could ruin the neighborhood....
"Bringing in someone who grew up in public housing, with a rags-to-riches story, who could identify with Brooklyn and African-Americans, that was slick," said City Councilwoman Letitia James, a critic of the project. Mr. Ratner played down Mr. Carter's importance in overcoming opposition. "Had Jay-Z not come along," he said, "we'd still have an arena."

Ratner's right. Jay-Z wasn't important in overcoming opposition; actual full-time Brooklynites like the leaders of BUILD and ACORN, signatories of the not-so-credible Community Benefits Agreement, were far more important, given that they brought people to rallies and public hearings.
Jay-Z was important in generating publicity, and in getting journalists/tv hosts like Rosanna Scotto to turn into simpering fans. And he's still generating publicity, as with this article.
...
That missing disclosure
I don't know what the Times's policy is any more: do they no longer feel obligated to disclose the parent company's business relationship with Mr. Ratner? Wouldn't that prompt readers to be a wee bit skeptical?