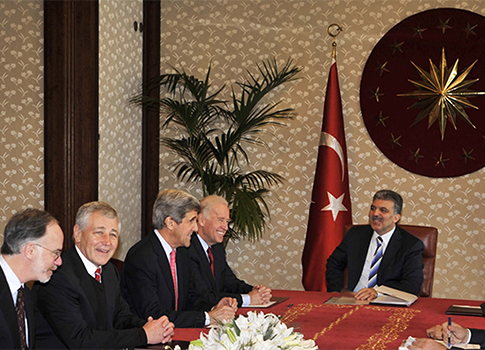 Armenian-American leaders and human rights advocates have expressed deep reservations about the nomination of Chuck Hagel to lead the defense department.
Hagel, a two-term Republican senator from Nebraska, was nominated Monday as President Barack Obama's pick to head the Pentagon. He faces criticism for opposing a 2005 congressional resolution recognizing Turkey's genocide of more than one million Armenians.
"What happened in 1915 happened in 1915," Hagel said during a 2005 trip to Armenia when he was serving in the Senate. "As one United States senator, I think the better way to deal with this is to leave it open to historians and others to decide what happened and why."
"The fact is that this region needs to move forward," Hagel continued. "We need to find a lasting, just peace between Turkey and Armenia and the other nations of this region. I am not sure that by going back and dealing with that in some way that causes one side or the other to be put in difficult spot, helps move the peace process forward."
Armenian-American leaders and genocide experts decried these comments as insensitive and dangerous. They maintain that Hagel's willingness to overlook the systematic genocide of more than one million people raises concerns about his possible tenure as the nation's top defense official.
"Senator Hagel's remarks from 2005 ignore a proud chapter in U.S. history during which America's diplomatic community played an important role denouncing human rights violations and setting an example of humanitarian assistance on behalf of a people at risk," said Bryan Ardouny, executive director of the nonpartisan Armenian Assembly of America. (more)
you can't say Hagel has not been consistent in his loyalties. It would be interesting now that Turkey has a proxy war with Iran in Syria where his bias would leave him. I really don't want to find this out however.